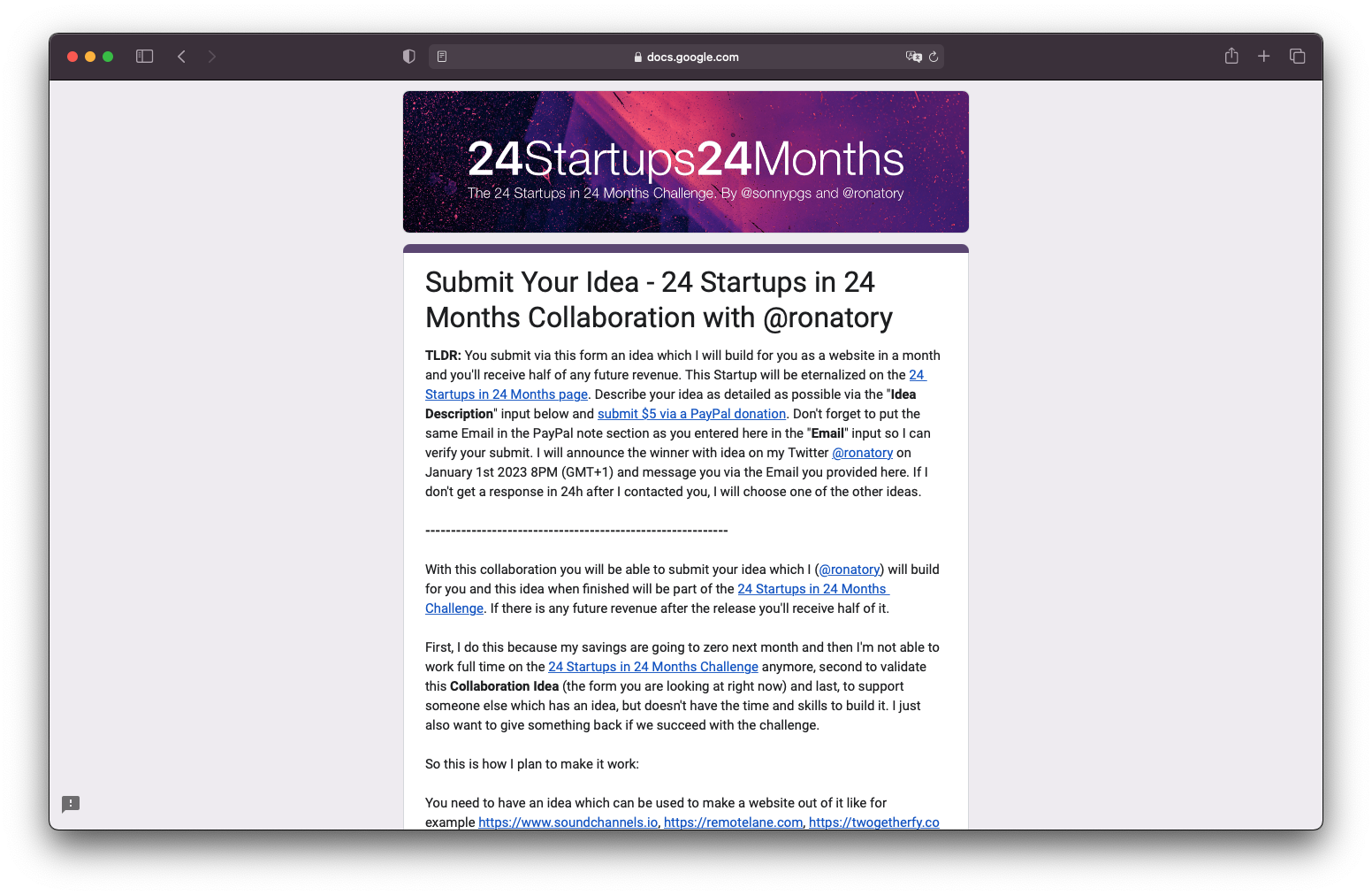 Submit Your Idea - 24 Startups in 24 Months Collaboration with @ronatory is the ninth startup from @ronatory in the 24 Startup in 24 Months challenge.
Reflection
It's now around 1 year ago since we released the 24S24M Introduction post and I like to use this post also for a short reflection. First we have build in total until today (Dec 10, 2022) fifteen startups together with @sonnypgs and words can't describe how proud I'm of us both. Although not one of these startups took off to generate enough income repeatedly this whole time frame showed me personally that we can build something fast, we are open to remove features to get early enough feedback and can create something out of nothing which real users use. Also it showed me even if you can theoretically 100% focus full-time on these projects, you can still get distracted by a lot of private, personal stuff which is kind of the same as wasting time in a job or in a relationship you don't want to be in or in general you do something where your honest inner voice says "This feels wrong...". So this reminds me again just focusing on the present as much as possible. What can you do today? What can you do now?
I still want to achieve the number 24 at the end of this challenge, but to be honest I will also continue after 24 Startups if we don't reach the goal of at least one startup becoming successful. Also on the way I found my go to stack to build things which is right now RedwoodJS. I've learned that SEO (Search Engine Optimization) is as important as to release a startup maybe even more important. A lot of components like creating an email newsletter, upgrading or downgrading subscriptions are now available to just reuse these components for new ideas. So the time building these components from scratch is saved for deciding which ideas to focus on to bring them to reality. I've learned more about how to talk to potential users and that still only if you as a developer understand your own product doesn't mean someone else is able to understand it on the same level, especially with the latest Startup SoundChannels.io. Other learnings can be found here in this Indie Hackers comment from me.
Startup #9



This all brings me to this current startup which I call "Submit Your Idea". I think we all have great ideas in our minds for making something better and I'm one of those which have an unfair advantage to be able to bring these ideas to reality when it comes to startups build via websites. I want to make something different this time which is to build an idea which was submitted by someone which I don't know personal or have never met before. And if the startup which was build from that idea will generate any future revenue it will be divided by two. So you as the idea giver will get half of the revenue and me as the idea realizer will get half of the revenue.


Also scarcity is a reason which lead me to just try this idea out, because to be honest, next month my savings are going to zero and then I'm not able to work full-time anymore on this challenge. So I will combine the idea submission with a small donation fee which is $5 per submit. If I think deep about it, I'm comfortable with the thought to continue this idea collaboration throughout the whole time frame of the 24 Startups in 24 Months challenge until one idea will be successful. But let's try to start somehow first and see where this can go.



Actually something like this I had already in my mind before the 24 Startups in 24 Months challenge, something where I can somehow independently work with someone together and give also something back. So this is kind of a first attempt.





Here is the TLDR of the Google Forms to submit your idea:




"You submit via this form an idea which I will build for you as a website in a month and you'll receive half of any future revenue. This Startup will be eternalized on the 24 Startups in 24 Months page. Describe your idea as detailed as possible via the "Idea Description" input below and submit $5 via a PayPal donation. Don't forget to put the same Email in the PayPal note section as you entered here in the "Email" input so I can verify your submit. I will announce the winner with idea on my Twitter @ronatory on January 1st 2023 8PM (GMT+1) and message you via the Email you provided here. If I don't get a response in 24h after I contacted you, I will choose one of the other ideas."




And here is the actual link for submitting your idea: https://bit.ly/submit-your-idea-24s24m




If you don't want to click on the Google Forms link here is also the detailed description from it:




With this collaboration you will be able to submit your idea which I (@ronatory) will build for you and this idea when finished will be part of the 24 Startups in 24 Months Challenge. If there is any future revenue after the release you'll receive half of it.




First, I do this because my savings are going to zero next month and then I'm not able to work full-time on the 24 Startups in 24 Months Challenge anymore, second to validate this Collaboration Idea (the form you are looking at right now) and last, to support someone else which has an idea, but doesn't have the time and skills to build it. I just also want to give something back if we succeed with the challenge.




So this is how I plan to make it work:




You need to have an idea which can be used to make a website out of it like for example https://www.soundchannels.io, https://remotelane.com, https://twogetherfy.com or just have a look at all the other startups on https://www.24startups24months.com. The idea needs to provide at least one service or product where a user can pay for it via one time payment or via subscription. Let your creativity flow. That's it!




Describe every detail you have currently in mind regarding your idea in the "Idea Description" input below. Keep in mind, less is more, but also that someone else who never heard of your idea should be able to understand it. Maybe begin with "How would you describe your idea in one sentence?". So it should be a mix about being precise as possible, but also add all the needed informations to bring your idea to reality.




For developing the website I will use RedwoodJS with Stripe for payment, because I've used it now for 4 startups and for me it's the best way to build a startup fast.




What I will also do is to daily update the progress of the idea realization via my Twitter @ronatory after the start so you can follow along there and give feedback on the way.




The duration until finishing the project should take 30 days from start to release.




If you want that your idea will be considered for a collaboration then just submit your Email below, describe your idea below and donate $5 via this PayPal link. Don't forget to put the same Email in the PayPal note section as you entered here in the "Email" input so I can verify your submit.




There is no guarantee that the project will be finished at the end or during 30 days, but I'll give my best and if so there should be a valid reason why I couldn't finish it e.g. sickness. Also there is no refund at all. It's just the opportunity to get half of the possible future revenue.




I will announce the winner with idea on my Twitter @ronatory on January 1st 2023 8:00 PM (GMT+1) and message you via the Email you provided here. If I don't get a response in 24h after I contacted you, I will choose one of the other ideas.




This form might change depending on feedback I receive to improve it. See also the the point "How would you improve this Idea Collaboration with @ronatory?" below for that.




Submission closing date will be December 31st 8:00 PM (GMT+1).




Let your mind wander. Let your creativity flow. I'm looking forward to your idea 🚀




---


Tech Stack Notes:



-Google Forms for the idea submission form

-PayPal for the donation





If you like Submit Your Idea, you can upvote it via Product Hunt 🚀





If you want to be part of the 24 Startups in 24 Months journey then just subscribe below and get updates via email.



Use following links to get the latest updates also: